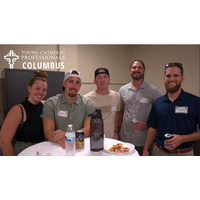 Written By: Jack Rees
On September 21st, we were blessed to have Fr. Nathan Cromly as our executive speaker! His presentation about what it means to be a true leader was phenomenal. He taught us the importance of leadership not only in our faith lives but in our personal and professional lives as well.
We had 125+ people attend this event, which is one of the biggest, if not, the biggest turnout we've had thus far!!! The fact that more and more people attend YCP events and want to know more about how they can
connect on a personal and spiritual level means the world to us!
There were a couple of topics that stood out to me. The first was "why am I paralyzed by fear?" Fr. Cromly explained that one of the main reasons we experience fear is that we don't want others to think of us as failures. We tend to seek the approval of others or measure our successes to someone else's, and we end up becoming our own worst enemies. He further explains that Christ has set us free from our past, but we need to learn from it and move forward; knowing that we have nothing to fear. The second topic Fr. Cromly brought up was "what will you let Jesus do for you?" We sometimes become too overwhelmed by our own fears and anxieties that we forget why The Lord put us on this earth. We all have God-given talents, and it is up to us how we use them to lead others.
Life can be difficult at times, but casting your fears on The Lord and using your gifts to lead others will benefit you as you move forward in life. Jesus said: "Have I not commanded you? Be strong and courageous. Do not be afraid; do not be discouraged, for the Lord your God will be with you wherever you go." (Joshua 1:9)
---