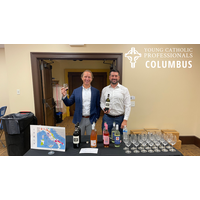 Written By: Kristopher Lee
On Wednesday August 17th, our Columbus young catholic professional community was blessed to have Chad Wilson spend his night with us as he discussed his faith, his work as the associate vice president of government relations for Nationwide, and his thoughts on networking in today's world. Chad provided some helpful, useful, and practical advice for being intentional and building a network. The following is a six step summary of Chad's discussion:
First Step: Create opportunities to make a new connection
- Mindset: Set a goal of meeting new people each year
- Events: Arrive early and don't be in a rush to leave
- Plan: Set your course to meet people. Take extra steps. Do what it takes to be visible
- Personal Image: Reputations matter. First thing people notice about you is your shoes, invest in them.
Second Step: How to network at events and make a new connection
- Mental Preparation: Everyone strives for a sense of belonging, everyone struggles with loneliness
- Rehearse Your Elevator Pitch: Be able to explain what you do/what your role is in 20-60 seconds
- Position Yourself In the Room: Before - don't be glued to the back wall. During - meet people at the bar. After - go to the exit and say goodbye to the connections you've made.
- Introduce Yourself: Individually or to groups with three or more people
- Lead with a statement: avoid compliments or questions
- Three universal languages: News, Sports, Weather
- Once You're talking: Keep offering topics until you land on a mutual subject
- The more you listen, the more you are liked
- Hold one conversation: Don't look beyond the person you're talking with
- Exchange contact information
Third Step: Are you ready to answer universal life questions?
- What's new?: Recent professional or personal highlights
- How are you?: Your overall health and how you're investing in your health
- What have you been up to?: Recent fun events, travel, or experiences
Fourth Step: Work week conversations occurring around the world
- Monday: "How does your week look?"
- Tuesday: "What projects are you leading?"
- Wednesday: "Is it finally the weekend?"/ "It has been a long week"
- Thursday: "What are you doing this weekend?"
- Friday: "Today's Friday"
Fifth Step: Follow-up with your new contact
- When writing to them, turn all "I" and "We" references into "You" and "Your"
- Remember that it's all about your audience, not about you
- Utilize LinkedIn
Sixth Step: Build True Partnerships
- Pay it forward
- Remain in contact
- Build and keep trust
- When needed, make the ask you need with confidence.

Such tremendous advice from a true networking professional. The Columbus YCP community could not be more grateful of Chad for his time, his insights, and of course for the wine tasting he provided to our group!
---