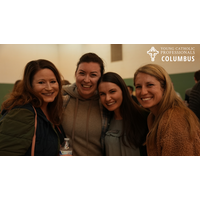 Written By: Denis Veneziano
The night of April 20th we welcomed our Board of Directors for an amazing Panel discussion on Leadership and Faith. Our Board is constituted by Doug Cones (Director of Compensation at Cardinal Health), Lauren Manson (Executive Director of the Ohio Health Information Management Association), Cid Rhomberg (President and Founder of Brick House Blue, LLC), and Tom Zaino (Managing Partner and Founder of Zaino, Hall & Farrin, LLC).
The discussions were moderated by our President, Kayla Stucke and consisted of questions we had tailored for the purpose of bringing knowledge to our audience in regard to living our Faith in the workplace and how that looks like in practical terms. The theme really brings out the essence of what the spirit of YCP is: building a community of young adults who work in witness for Christ.
The panel questions started with a pretty direct one: how do you work in witness for Christ through your career? The answers were as interesting as the people giving them. Cid for example shared how every morning she gets to her office in the Bridgepark area, she takes time to start the work day in prayer as she is joined by some of her employees. Doug shared how treating his coworkers with compassion and love is the way for him to share the Love that Christ has taught us. Along a similar wavelength is Lauren who believes in leading by example and planting the seed that God will let blossom later. Lastly, Tom told us how he is never afraid to share his beliefs with anyone he works with and to also let actions speak louder than words.
What struck me the most during the following questions was what our panelists told us about how to turn our ordinary work into something extra-ordinary. In their own ways, they showed us the care and love they have for the people they interact with the most, from their coworkers to their families at home to their friends. The common ground throughout their answers was that we are all called to love in every circumstance of our lives, through thick and thin, partaking in the joy of our neighbor's accomplishments and offering up the struggles that occasionally come up. Doing ordinary things with extraordinary Love. "Comforting people and not judging them", Cid echoed. "Keeping an authentic faith and offering everything we do for the Glory of God", Lauren added. In the midst of our work tasks, "just be patient and nice to people…it doesn't cost much if you think about it", as Tom would say. Doug also shared with us his favorite quote, that everyone in his office became familiar with: "bloom where you are planted".
The evening ended with a few insights about what our panelists typically look in a potential candidate and what was the best part of their jobs. Finally their favorite saints: Mother Theresa for Cid, John Paul the Great for Tom, St. Anne for Lauren and St. Francis for Doug.
Thank you Doug, Cid, Lauren and Tom for the amazing and inspiring insights you gave us through this amazing panel and to everyone who was able to join. We cherish their leadership in our Board and are always grateful for their support, without which our events couldn't even happen.
We'll see you all on May 18th at St. John Crysostom with Fr. Robert Jager!
God bless,
Denis
---